Treat Yourself With The Discovery Pico Laser and VirtueRF Microneedling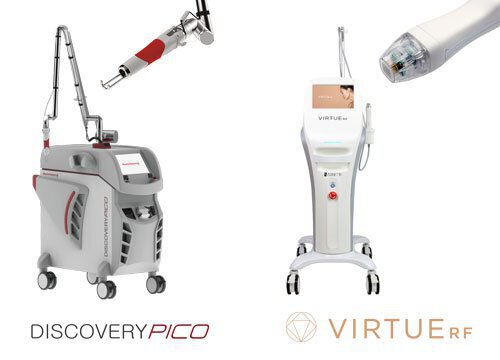 February is the month of romance and love — but that doesn't always have to mean a significant other! This year we're encouraging you to be your own Valentine and treat yourself to a treatment that will have you feeling confident and empowered all month long. Our picks? The Discovery Pico Laser and VirtueRF Microneedling.
Here's everything you need to know about these self-love procedures that'll have you feeling like the best version of yourself long after the most romantic day of the year is over.
Discovery Pico Laser is not your average laser. It's a multifaceted procedure that uses laser technology to treat age spots, freckles, sun damage, pigmented lesions, wrinkles, and acne scars. With peak power, four separate emission modes, unique OptiBeam handpiece design, and three true laser wavelengths, the versatility and power makes it one of our favorite industry-leading devices.
The Discovery Pico Laser laser works by damaging skin cells deep in the dermis, which then signals a healing response known as "cell signaling." This process activates the creation of collagen and elastin (a fibrous protein found naturally in the skin that is responsible for skin strength and elasticity).
One Discovery Pico Laser session takes only ten minutes, and with no downtime, you'll be able to put on makeup immediately afterward and resume outdoor activities the following day — just be sure to apply plenty of SPF.
Still a bit wary? Don't be! Discovery Pico Laser uses a gentle pressure rather than heat — this means no pain and minimal risk. The photomechanical effect is highly efficient in removing unwanted pigment as well as treating scars and wrinkles and with three different hand pieces and four different modes that address different concerns, your unique needs can easily be taken into consideration for optimal results. Everyone has different skin and the Discovery Pico Laser allows for maximum customization.
Head into spring feeling refreshed and vibrant.
Not into lasers? Not a problem.
Another renaissance treatment, Microneedling has the ability to address a myriad of issues.It's used to treat and improve conditions like acne scarring, fine lines and wrinkles, loose skin, skin texture, pore size, brown spots, stretch marks, and pigment issues.
Microneedling works by injuring your skin: By injuring the skin, microneedling forces regrowth.
The process of regrowth increases the production of collagen, which as mentioned, is critical for plump, healthy skin. Still, as we age, collagen naturally dissipates, meaning that keeping new collagen coming in is vital for glowing, ageless skin.
When you add radio frequency (RF) technology to your microneedling treatment, expect those results to enhance. The handheld VirtueRF device delivers radio-frequency heat energy at an exact depth to promote a remodeling of collagen and elastin to tighten and lift the skin. With three different speeds, red and blue LED and robotic precision, the customization features are unparalleled.
This versatility means we're able to deliver shallow and deep treatments on the same device — just tailored to treat your specific skin needs. No matter what you're looking to address, there's a feature for it.
Give yourself the best Valentine's Day gift ever this year: the gift of self- love. Give us a call and set up a consultation now: (650) 433-8621.